Morels are spring mushrooms. They pop as early as January or February and Greece has an excellent early season.
Morels need high temperatures somewhere around 60 degrees, and lows somewhere around 40 degrees to pop. They tend to hang around trees, but a flush can spread from a particular tree for a long way. Where we hunt them, morels like to live with a pretty orange cup fungus; it's some species of peziza.
This is a satisfying easy salad to make that celebrates the best of spring's bounty. It's also eminently interchangeable with other ingredients. If you can find fiddleheads at the market, you can buy them online, or just substitute asparagus tips. Can't find miner's lettuce? Use baby spinach. Farro baffling you? (It's a kind of ancient wheat) Use barley. At a loss for finding ramps? Use the white part of spring onions. If you do use spring onions, dunk them in some nice vinegar for an hour or so to get some acidity going. The pickled ramps provide the only acidity in this dish, so it's important.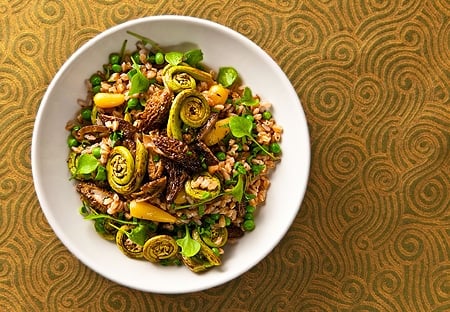 Ingredients
4-6

ounces

fresh morel mushrooms

8

ounces

fiddleheads or asparagus tips

Salt

1

cup

farro or barley

1

quart

vegetable broth

4

tablespoons

olive oil,

divided

1

cup

peas

2

tablespoons

minced green garlic,

or 1 large clove of regular garlic

1/2

cup

pickled ramp bulbs,

or the white parts of spring onions

1

cup

miner's lettuce,

or baby spinach
Instructions
Slice the morels in half lengthwise and drop them into a bowl of cool water. Swish them around a little, then let them float while the debris trapped in them sinks. Some debris will also float, however, so carefully pick out the mushrooms and put them on a tea towel to dry.

Bring a pot of water to a boil and add enough salt to make it taste like the sea. Clean your fiddleheads and boil them 5 minutes, then drop them into a bowl of clean ice water. Once they are cool, move them to the tea towel next to the morels to dry. Don't mix them because you will cook each ingredient separately.

Bring the broth to a boil and add the farro. Add salt to taste and simmer this gently — you want the broth to just barely be bubbling — until the farro is tender. Drain the farro and put it into a large bowl with the peas, which will cook with the residual heat of the grain. Mix in 2 tablespoons of olive oil.

Heat a large saute pan over high heat for 2 minutes. Add the morels and shake the pan so they don't all stick immediately. Shaking the pan, let the morels sizzle and give up their water, about 2 minutes. Add the remaining olive oil and toss to combine. Saute the morels for 2 minutes. Add the fiddleheads and sprinkle salt over everything in the pan. Saute 2 more minutes.

Add the morels and fiddleheads to the bowl with the farro, then add the pickled ramps and green garlic. Stir in the miner's lettuce or baby spinach. Serve hot or at room temperature.
Notes
Do your best to find the morels. They are wonderful, and worth it for a special dish like this. If you absolutely cannot find them, use another nice mushroom from the market; my second choice would be oyster mushrooms. Try to avoid the white buttons for this recipe, though.
Nutrition
Calories:
383
kcal
|
Carbohydrates:
55
g
|
Protein:
11
g
|
Fat:
15
g
|
Saturated Fat:
2
g
|
Sodium:
966
mg
|
Potassium:
613
mg
|
Fiber:
11
g
|
Sugar:
5
g
|
Vitamin A:
3724
IU
|
Vitamin C:
34
mg
|
Calcium:
75
mg
|
Iron:
7
mg
Source: honest-food.net